Beyond....
Have you ever stopped to think about all the things in your life that are totally
beyond
you.....
In my life, (not necessarily Roget's thesaurus) beyond is synonymous with miraculous.
You see, I know what I am capable of doing.
I know my limitations.
I know where I stop and where God starts and
this always happens at the place of beyond
.
When I can't, but He does!
When God steps in and does the seemingly impossible.
When God graces my life with His power,
His ability,
His clout (if you will)
and doors open,
or close. (Even closure can be a good thing when God is in it.)
When dreams that are beyond all that is me (and sometimes even beyond my comprehension) become reality.


When beyond happens,
miracles abound.
Why would the creator of the universe be interested in my dreams?
Why would the King of Kings and the Lord or Lords step in and take an active part in my every day, ordinary, small corner of the world, life?
Why would the Lover of my soul purposely choose to love (and die!) for a sinful, no-good, filthy-rag wearing person like me?
This too, (especially this) is beyond me.......
and I think you will agree,
nothing short of miraculous~
♥ ♥ ♥ ♥ ♥ ♥ ♥ ♥ ♥ ♥ ♥ ♥
Welcome to
Heartprint Hallelujahs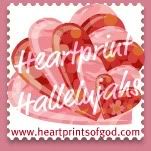 Here we go: