December 19, 2010:
the date of my 45th birthday and the day I came face to face with reality.
As I stood looking at myself in the mirror, I saw more than wrinkles, a few (ok, quite a few) gray hairs, and a less than perfect hour glass figure. Instead, I saw the end. The end of my life.
I did the math and discovered,
unless I lived to the ripe old age of 90 or beyond,
I was MORE than half way through my life.
If I was blessed to live to be 70,
I only had 25 more birthdays to celebrate.
25!
Have you noticed how fast 25 years fly by?
It was then,
and that very moment,
I decided I better get to living my life.
No more dilly dallying around.
No more thinking "one of these days". (It was more than apparent, I was running out of "these days".)
I had to make each day count!
I had to make my life count!
Not to mention,
I had to make up for
lost time,
lost years,
lost opportunities,
lost moments when I was anything but all God created me to be.
So for me,
on that December day,
life began at 45.
What about you?
Have you been making the most of YOUR life?
On
your
next birthday,
standing in front of
your
mirror,
will you see someone who has made the most of the life you have been given?
Will the candles on your cake
be a true representation
of the ways you have spent your life
shining HIS light?
Starting Monday, October 1, I will be launching a new 31 day series entitled, "Make. It. Count.".
As we journey through October together,
I pray we will be able to see our life for what it is -
a precious gift to be
given away,
used up,
and poured out.
God created you and I
ON purpose,
WITH purpose,
FOR a purpose.
It's time, (dare I say, PAST time) to be purposefully living each day.
Meet me here each day in October and together, let's MAKE. IT. COUNT.
If you would like to invite a friend to join us, or let others know you are taking the 31 Day challenge to Make. It. Count., here is the button, free for the taking. :)

♥ ♥ ♥ ♥ ♥ ♥ ♥ ♥ ♥ ♥ ♥ ♥
Welcome to
Heartprint Hallelujahs.
To those of you who have joined me here each week, thank you. I have enjoyed your company
and have been blessed by your posts. This will, however, be the final Heartprint Hallelujahs Link Up. May God continue to bless you as you serve Him and use your gift to further His Kingdom.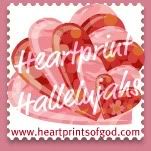 Ok....one final time...
Here we go: