If something is worth hearing, it is worth repeating. Right?
I'll never forget, as a child, hearing one preacher comment that when God wants to catch our attention, He uses "verily, verily".
There aren't any verily, verilys in Proverbs 10, but I have noticed a reoccurring theme.
11

The words of the godly are a life-giving fountain;
the words of the wicked conceal violent intentions.
13 Wise words come from the lips of people with understanding,
but those lacking sense will be beaten with a rod.
19

Too much talk leads to sin.
Be sensible and keep your mouth shut.
20 The words of the godly are like sterling silver;
the heart of a fool is worthless.
21 The words of the godly encourage many,
but fools are destroyed by their lack of common sense.
31

The mouth of the godly person gives wise advice,
but the tongue that deceives will be cut off.
32 The lips of the godly speak helpful words,
but the mouth of the wicked speaks perverse words.
Words.
We use them every day. I wonder how often we stop to think about the words flowing out of our mouth and into the ears of others.
The tongue is one of the smallest parts of our body, and yet, it is one of the hardest to control. It is also one of the deadliest. Proverbs 18:21 warns us that the power of life and death are in the tongue.
And still, even knowing this,
we
I often enter into conversations carelessly.
We
I speak first and think second, IF
we
I bother to think at all.
As Christians, we need to realize:
1.
Our words condition the hearts of all who hear them.
With our words,
we can either tear down or build up,
discourage or encourage,
speaks lies or declare truth,
speak death or impart life.
Our words matter and they
do
affect others.
2.
A spiritually unhealthy mouth is merely a symptom of an unwise, spiritually unhealthy heart.
It was Jesus himself who diagnosed this life-threatening illness in Matthew 12:34, "for out of the abundance of the heart the mouth speaketh."
Our words are a reflection of our heart and our only hope is found in a new heart. In Ezekiel 11:19, God promises to take our stony heart and replace it with a heart of flesh; a heart that is tender, compassionate, and keenly aware of the words that flow from it.
How I need this new heart. How I desperately need to sit at the feet of Jesus each and every day learning anew God's language of love.
A language that speaks life to the hearer.
Words of affirmation.
Words of encouragement.
Words of dignity and respect.
Words of hope.
Words of truth.
Words of
wisdom.
What are our words saying to those in our sphere of influence?
What are our words speaking into our family?
What kind of heart is touching theirs?
If ever we are in doubt, verily, verily, all we need to do is listen to our mouth.
It is sure to tell us.

♥ ♥ ♥ ♥ ♥ ♥ ♥ ♥ ♥ ♥ ♥ ♥
Welcome to
Heartprint Hallelujahs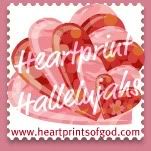 Here we go: