When I look at the night sky and see the work of your fingers—
the moon and the stars you set in place—
what are mere mortals that you should think about them,
human beings that you should care for them?
~ Psalm 8:3-4

The work of your hands,
creation,
above me,
below me,
all around me.
Vivid reminders of
Your
majesty,
glory,
and power.
And then,
there is me.
A tiny speck in this vast universe.
And yet,
You, oh God, are mindful of me.
You, my God, know me by name.
You, Father God, have count of the hairs on my head.
Who am I that you You would even notice me?
And, yet you do.
Your eyes are always on me.
Your ears are always open to my prayers.
Your thoughts are always toward me.
Not because of who I am,
but because of who YOU ARE.
You are
My Creator,
My God,
My Father.
And me,
I am never
out of your sight,
out of your love,
or out of your care.
♥ ♥ ♥ ♥ ♥ ♥ ♥ ♥ ♥ ♥ ♥ ♥
Welcome to
Heartprint Hallelujahs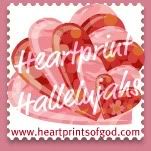 Here we go: