There will be times when you will be in the field
without a camera. And you will see the most
glorious sunset or the most beautiful scene that
you have ever witnessed.
Don't be bitter because you can't record it.
Sit down, drink it in, and enjoy it for what it is.
~DeGriff
Today is one of those picture perfect days. As I am writing this, I am sitting out on our back patio,one of my favorite places to be. Just a few minutes ago, the sun,tired from a days work, sank lower and lower in the sky, until it slowly drifted off behind the mountains, leaving behind a sky filled to overflowing with brilliant color. As this beauty unfolded before my eyes, I dashed inside to grab my camera.
As I hurried back outside, I realized this beauty was beyond anything I could ever hope to capture on film. It was too radiant, too expansive, too beautiful! For a moment, I felt utterly disappointed. Then, I decided to simply take it all in, to soak in every single bit of it, to enjoy this moment for what is was, a beautiful moment in time. I couldn't capture it with my camera, but I could capture it in my heart.
And so it is with life. So many times, I find myself living in a beautiful moment. I long to capture the emotion, the exuberance, the "aaaahhhhhhh" and hold it forever, but I can't. Instead, I must simply live in the moment, truly breathe it all in - every bit of it - and then, hold it in my heart.
Yet, sadly, I'm not very good at living in the moment. Sadly, I miss most of right now.
Enter my friend, Job-ette! Well, that's not her real name, but it could be. Not for the fact, that like Job, she has encountered more than her share of trials and hardships, but rather because like Job, she has stayed faithful to God and lived her faith through all that has come her way. She has remained steadfast, constant, and inspiringly focused on the moment at hand.
Like the day I was talking with her in the church playground. This women of faith was going through one of the most difficult times of her life, yet as I stood watching as she tenderly pushed a child on one of the swings, you would never have known her life was anything but happy. I marveled as I watched her interacting with this precious little girl and her dolly. They shared in simple conversation as they each took turns holding "the baby". From the outside looking in, my dear friend appeared to have nothing else on her mind, nothing else to do, nothing else to focus her attention on except the little girl in the swing.
"You're amazing!" I said. "Your world is all but falling down around you and yet, you are so in tune with this little girl. It is as though she is all that matters to you."
"She is," came her reply. "At this moment in time, she IS all that matters. I can't worry about what else is happening in my life at the moment, I'm not there. For right now, at this moment, I am here, pushing her on this swing. This is what I have been given right now...and I want to enjoy this moment for what it is. A simply sweet moment."
Oh, the lessons I have learned from Jobette.
As I sit here watching the sky fade to the dark of night, I am suddenly aware of how fast time passes. With each passing moment, our life is fading away, too. Todays become yesterdays before our very eyes. Days turned into weeks, then months, than years.
I can hear the rustle of the wind in the trees. I can hear the laugh of a little girl who lives a few houses over. I hear the goodnight praises of birds as they nestle down for the night. I see the trees gently swaying to the melody of life. I feel a cool breeze on my face. I feel peace in my heart. I AM living this moment....and what a beautiful moment it is. It is not a wedding, a graduation, or a momentous occasion of life....it simply IS life! I will drink it in....all of it, every single bit of it!
This is the day which the LORD hath made; we will rejoice and be glad in it. Psalm 118:24
Heavenly Father, Help me to live, to be alive in each and every moment of life. Help me to see, hear, taste, smell and feel every moment of every day. Foolishly, I have waited for "special occasions" to celebrate life, not realizing life IS a special occasion. Life is a precious gift - a gift that is to be unwrapped, enjoyed and fully spent, not someday, but at this very moment. Thank you, Lord, for right here, and right now~ In Jesus' precious name, Amen~
(Tonight reminded me of the evening I first wrote this, so once again I am re-posting. I hope you, my faithful readers, don't mind a re-run now and then.)
♥ ♥ ♥ ♥ ♥ ♥ ♥ ♥ ♥ ♥ ♥ ♥
Welcome to
Heartprint Hallelujahs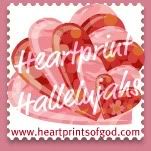 Here we go: