Every day, God graces my life with His presence, leaving behind heartprints of His love. I'm sure He is faithful to leave heartprints of His love behind in your life as well.
is a new weekly link up designed to be a place where we can come together at the end of each week and share our Heartprint Hallelujahs.
As we share our Hallelujahs, our hearts will be encouraged, our faith will be re-kindled, our hope renewed.
So, are you in?
Here's how it works:
Link up your
Heartprint Hallelujah
which can be any post or photo that lifts our hearts up to our precious Saviour, Jesus.
Add the
Heartprint Hallelujahs
button to your post so others can join in our celebration.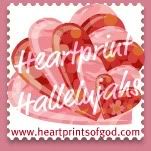 Then, get ready to be inspired, encouraged, refreshed and revived in your own faith as you share in the Hallelujahs of those linked up.
Mark it on your calendar and plan to join us each Friday for
Heartprint Hallelujahs
. The link will open at 7:00 pm MST each Thursday evening.