I sit in her chair, snippets of hair slowly sliding down the black cape as they make their way to the floor.
As she snips away at split ends, her words tumble out and drop to the floor along with my hair.
"I lost my father four weeks ago. Can you tilt you head down for me, please?"
I can't see her face, but her voice gives her tears away. As I gaze downward, I lift my heart upward and whisper a prayer for God's comfort and peace to flood this salon; to flood this aching heart. I pray for God to open wide a door of opportunity for me to speak HIS name and to tell of HIS goodness.
As she combs and cuts and blow drys and styles, we exchange words, attempting to make sense of death. As she re-lives the events of the past four weeks, I find myself re-living the events of the past seven years. As her eyes fill with tears again, I realize, in some ways, my heart is still just as raw as hers.
Time heals all wounds.
How much time, I wonder.
As she reminiscences, she smiles. I smile, too. And I voice the thanks in my heart.
"Aren't you glad God not only blessed us with such wonderful fathers, but also with the precious gift of memory?"
It is the door my prayer (and God) was waiting to open.
For the rest of my time in her chair, we talk about God. She believes in God, but her belief has yet to birth a relationship.
Until this evening. Until this moment. Until now.
I share with her the only ONE able to heal her heart, and she listens. And, she nods her head. And, she smiles. And she wants to know more. She wants to know HIM.
As she removes the cape and sweeps away the few strands of hair clinging to my blouse, she gives me a hug.
"Do you like your new cut?"
As I look into the mirror, I see more than a new look, I see the heartprint of God.
And while my hair has a brand new look to it, it is the presence of peace in my heart I notice the most.
All praise to the God and Father of our Master, Jesus the Messiah! Father of all mercy! God of all healing counsel! He comes alongside us when we go through hard times, and before you know it, he brings us alongside someone else who is going through hard times so that we can be there for that person just as God was there for us.
~2 Corinthians 1:3-4, The Message
It is not time that heals, but God.
God heals all wounds
, in His time and in His way;
even in a salon~
♥ ♥ ♥ ♥ ♥ ♥ ♥ ♥ ♥ ♥ ♥ ♥
Welcome to the premiere of..........
Heartprint Hallelujahs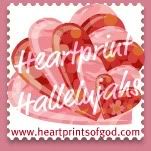 Here's how it works:
Link up your
Heartprint Hallelujah
which can be any post or photo that lifts our hearts up to our precious Saviour, Jesus.
Add the
Heartprint Hallelujahs
button to your post so others can join in our celebration.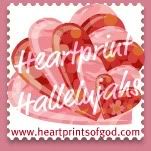 Then, get ready to be inspired, encouraged, refreshed and revived in your own faith as you share in the Hallelujahs of those linked up.
Here we go: