As I sat waiting in the car, I just happened to look up.
GOLD.
To the naked eye, I suppose it would have resembled bare branches on a tree, but, not from where I sat.
From my vantage point
,
the sun had transformed these barren branches, stripped of any sign of life, into pure gold.
It was in this light, I saw the heartprint of God.
Seasons - the ebb and flow of life.
Seasons of hope, fruitfulness, barrenness and death.
It's not hard to see God in the blossoms of Spring.
It's not difficult to feel God in the warmth of the Summer sun.
But, where is He in the Fall and Winter of our life -
when cold winds blow and dreams crumble up and fall to the ground?
when periods of darkness strip us bare and leaves us void of life?
He is seated at the refiner's table.
I'll refine them as silver is refined,
test them for purity as gold is tested.
Then they'll pray to me by name
and I'll answer them personally.
I'll say, 'That's my people.'
They'll say, 'God—my God!'
~ Zechariah 13:9, NLT
It was only
after
this tree had suffered through the winter season that I was able to see it's hidden beauty.
As long as leaves of green adorned it's branches, the underlying bark of these limbs was concealed.
Now, on display for all to see, they were radiant in the afternoon sun.
It is the same with you and me.
It it only
after
we are stripped of
all that is sinful,
all that is superficial,
all that is merely for show,
that the hidden beauty of "Christ in us" is revealed.
It is only
after
we have suffered through
the Fall of self-denial and
the Winter of affliction
that we are refined into His likeness.
Jesus loves us just the way we are, but, He loves us too much to allow us to stay that way.
When all we can see is barrenness and death,
God sees what we will one day be
.
From His vantage point,
we are beginning to shine like gold~
♥ ♥ ♥ ♥ ♥ ♥ ♥ ♥ ♥ ♥ ♥ ♥
Welcome to..........
Heartprint Hallelujahs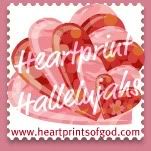 Here's how it works:
Link up your
Heartprint Hallelujah
which can be any post or photo that lifts our hearts up to our precious Saviour, Jesus.
Add the
Heartprint Hallelujahs
button to your post so others can join in our celebration.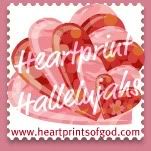 Then, get ready to be inspired, encouraged, refreshed and revived in your own faith as you share in the Hallelujahs of those linked up.
Here we go: